Marathonbet Review – An European-Based Sportsbook Ranked
Excellent market variety
In-play Betting
Mobile Betting App
24/7 Customer Care
Constantly casting about for the choicest betting operators on the internet, we came upon a bookie sitting on more than 20 years of experience in the field, and a promising outlook for the business. Our strenuous search and a fair bit of cross-pollination lead us to the doorsteps of European-based Marathonbet. One way or the other, the bookie has given the sports betting fraternity something to talk about.
If you're a punter who likes to spread their net wide, you might want to consider this sportsbook. That being said, you have to know that Marathonbet is licensed to operate in several jurisdictions. Established in 1997, the bookie is, up to this date, placing high demands on the quality and equitability of its betting service – the five active domains performing fit to bust prove just that. We'll see how this operator fares under scrutiny and help you see for yourself if its markets, in-play, bonuses and customer support live up to your expectations.
What You Need to Open an Account with Marathonbet?
Registration is nothing too far out. To the contrary, the process is condensed to just one page of blanks waiting for your attention. It's all, things you can fill in off the top of your head, like country of residence and address. These make much matter because your hometown could be one of the areas Marathonbet doesn't cater to. The same goes for the email address you're going to register – the bookie will seek to confirm it before approving your registration. All in all, be as concise as possible to avoid further complications.
Marathonbet Licensing and Reputation
Whether it be gambling or sports betting, the operator keeps its act clean. Its close cooperation with the Gambling Commission has produced an interesting tie-up marked by fairness. In any case, we are dealing with a pedant for the protocol that doesn't take irregularities lightly.
Emphasizing on the legal side of its responsibilities, the bookie takes to heart the liability bestowed by the UK Gambling Commission. You can read more on the commission's website as it quotes verbatim what "protection of customer funds" is about. Simply put, the company would never misappropriate money.
Not only is it a good sport to the core but, as per its operation license, Marathonbet is obliged to guarantee a certain level of insurance for its customers. Besides the uncontrived correctness, the company has a vested interest in keeping its policies regarding money-handling and customer safety as transparent as possible.
How to Bet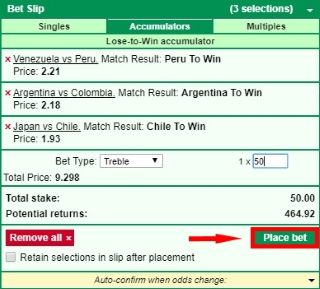 The way you place a wager is nothing too out of the ordinary. Here we see employed an oversimplified betting routine non-taxing on your time. Everyone possesses the know-how to sink their first bet on this platform. The whole thing goes down in three easy steps. It's as simple as this: select one or a few odds-containing boxes, check your bet slip, stake and confirm your bet.
If you prefer to get this done with the help of a professionalist, we're here to announce that the sportsbook also supports telephone betting. It's conveyed over two toll-free phones, one – international and one for UK residents. Once you call, an agent will take your betting on the road in short order.
Marathonbet Security Features
The company has got security by the short hairs. Marathonbet.co.uk implements double-folded measures that guarantee your privacy. Taking the brunt of potential attacks is a Thawte certified SSL encryption that conceals your data, making it impossible to intercept and be misused. Furthermore, you can access the low-down of your login history from your personal account and report any suspicious behavior. Every online security expert, worth their salt would tell you that there are additional steps that could be taken, but even so, this is a valiant try.
Payment Methods of Marathonbet
For UK clients, familiar with the widely-used online means of payment there should be no problem funding their Marathonbet account. There's a fine selection of Instant payment methods, whereby you can deposit and withdraw commission-free. For the most part, your minimum deposit has to be at least $5.00, only Trustly and EcoPayz breaking away from the pack raising the bar to $5.00.
Marathonbet Banking
Deposit Time Frame
Min. Deposit
Withdraw Fee
Immediately After Deposit
$5
No Fee

Payment Methods

MasterCard

Visa

Skrill

Neteller

Paysafecard
Can you deposit with your bank card? Yes – if it's a VISA or MasterCard/ Maestro. Again, with no extra charges. Other options include Entropay, Skrill, Neteller, Paysafecard, Bank Transfer, boku, Jeton, and Wallet. Do bear in mind that for a bank transfer to go through you have to request a withdrawal worth a minimum of $200.
Bonuses New Members Can Take Advantage of
We get the feeling that Marathonbet has to brush up on its otherwise great dealer skills. It used to offer one of the most irresistible deals out there for new and existing customers. As of now, its designated bonus section looks somewhat mercurial and the lack of clear explanation makes it doubly confusing for the newly-signed punters. Regardless, here's what we found out.
Marathonbet
Best Odds Guaranteed
The bookie steps in with a Best Odds incentive complimenting horse racing enthusiasts. As the standard promotions of the type, this one too ensures you get paid on the very best odds the bookie has to offer. That means the odds can fluctuate all they want, but your bets will always be settled on the higher price. In this regard, the sportsbook measures up to the established standard.
18+, T&Cs Apply
Marathonbet
Free Bets
If you go in for prolonged betting sessions on a regular basis, you'd appreciate that Marathonbet dishes out free bets here and there. The deal with those is – when you win one you get to keep only the net profit while the stake itself goes back to where it came from. The promotion has been active for quite some time now but the way it's put to words leaves us slightly baffled as to on what occasions we could expect free bets to be credited to our account.
18+, T&Cs Apply
Marathonbet Loyalty Program
By dint of the bookie's loyalty program, every bet you place counts, no matter if it wins or loses. Outlaying wagers earns you points that can then be exchanged for perks from the bonus catalogue. Points are awarded for each $10 staked on qualifying bets. Persistence won't be left unrewarded, this is a loyalty program after all. Betting regularly allows you to climb up the ladder and improve significantly your points income. There are seven loyalty levels – notching up the last one doubles the rate at which you earn points. This is very optimistic news for long-term members.
Layout and User Experience
The site's rustic design is a major throwback to what the betting platforms used to look like at the beginning of the century. A banausic look and arrangement are not falling too far behind the idea for practical wagering. To the left are lined up all covered sports, immediately followed by the available markets of each of them.
Using this solidified model, Marathonbet.co.uk isn't lacking "up top" either. There, above-the-fold, you can find the tools to customize your betting experience: language, live results & statistics, odds type, and even site type. This is obviously a design that holds water since the betting apps are modeled after the very same fashion, while the web page itself is supported by the web browsers Chrome, Safari and Opera.
Company Information
Founded In: 1997
Website: www.marathonbet.com
Headquarters: Curacao
Licences: UKGC and AGCM
Support: Live Chat, E-mail, Phone
Bookie Features
Welcome Bonus: –
Sports Available: 30+
Min. Deposit: €10
In-play Betting: Yes
Mobile Betting: Yes
Sports Markets
Much to our surprise, there isn't a deficiency in betting lines for mainstream sports. As per usual, we see the markets tab divided in two: popular, and everything else. At the moment of writing this review, popular are football, tennis, snooker, rugby union, horse racing, and cricket. Although not categorized as popular yet, the e-Sports tab is a real find. It's jam-packed with action, coming from the, now household titles CS: GO, Dota2,and LoL.
You don't have to stake the success of your betting routine on just one of these categories though. Not if there's a galore of alternatives like American football, autosports, basketball, boxing and even chess. Marathonbet's selection of sports markets is just way too inclusive to be summarized in a few lines. Although there's no advanced search engine, the sports markets are arranged in alphabetical order to aid you in finding what you're looking for.
Popular Betting Markets at MarathonBet
Football
Tennis
Golf
Snooker
Motorsports
Champions League
Wimbledon
PGA Championship
World Championship
Formula 1
UEFA Europa League
US Open
The Masters
The Masters
Motorcycling
Premier League
Australian Open
Mizuno Open
UK Championship
Nascar
Seria A
French Open
Ryder Cup
The Masters
Rally
Primera Division
WTA Dubai
U.S Open
World Open
Speedway
Ligue 1
Challenger Tour
Open Championship
European Masters
Supercars
Marathonbet In-Play
By and large, punters are on the same wavelength – In-Play is of integral importance for building a solid betting platform that will last. Been around the block for many years, the company is no stranger to the live betting dynamics, which we could say, have more than built them up as a brand. In respect of sports offered – the service holds its own. The manifold choice gave us an equal opportunity to wager all our favourite sporting enedavours and their numerous events.
One thing helping us a great deal throughout is the in-perspective graphics that makes the matches come to life even though not streamed live. The animations indicate explicitly exactly what's happening. Not that you have to mark down all turns and twists – it's all being recorded and the statistics – updated constantly before your eyes. This is especially useful for betting on dynamic sports, more so in tennis – a game that has so many components. Most up-and-coming sportsbooks don't have that, which means Marathonbet's earnest effort carries weight.
Mobile Application of Marathonbet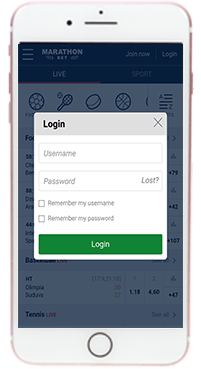 The company has released a custom-built application for iOS and Android available for download in the respective stores. We think the safest and easiest way to install the one suitable for your operating system is to take advantage of the direct links on marathonbet.co.uk. The app takes the action to your mobile and tablet, reassuring you, that you are at all time geared up to wager in a timely manner. You get to experience in full measure all features previously discussed on your mobile platform.
However, we couldn't turn a blind eye to the customer ratings and reviews of the application. Opinions couldn't be more polarized – everybody is expressing strong opinions about it. On a more positive note – Marathonbet's mobile site loads cleanly each time and functions properly. For those reasons, we resort to it for betting on-the-go. This mobile version is user-friendly and lends itself to continuous betting sessions.
Customer Service
The amiable staff members, whom you can talk to on a first name basis, left a strong impression on us. You can contact them in several ways: Phone, Email, and Chat. Our personal favourite is the webchat accessed directly from the homepage. The system will put you through in seconds and connect you with a qualified customer support agent.
Not that and Email isn't an option, but we know for a fact that that nine out of ten times the response won't be immediate. This is because the queries can mount up pretty quickly thus pushing all new ones to the "pending" tray. That's why we prefer to get in touch directly with the helpdesk over the toll-free telephone. Although we had no major setbacks to discuss, from what we saw, the customer support team stacks up to those of the elite operators.
Conclusion
To keep the pot boiling, the bookie will have to reassess its mobile platform – or better yet – do some overhauling changes. Still and all, at this point, feeding quality live streams should be on top of its agenda – this will give a new lease of life to its betting service. For now, this component, together with the slightly outmoded remuneration plan still need some work.

With all due consideration, we think this sportsbook has merit. Though not being a class act, the unflagging commitment of Marathonbet is slowly inching the company forward. If you want, you can still give it a go and have a fulfilling betting time in there but beyond question – there are other worthwhile operators too.

Preferred Bookmakers In Your Location