Titanbet Review 2021 – A Bookie On the Upswing
Bet $25 Get $25 Free
In-play Betting
Mobile Optimized Website
24/7 Customer Care
Even though the boiling pot of daily emerging online sportsbooks can be overwhelming for some, Titanbet wouldn't slip under our radar for anything. It's a firm going from strength to strength, possessing lots of hands-on experience in the business of sports betting. With the following review we'd like to frame out the things that caught our fancy and at the same time answer the question "is this a legitimate operator?".
Our not sparing with constructive criticism review focuses on not just legitimacy but the genuine betting experience conveyed by the sportsbook. We'll attempt to answer whether it's making a quick foray or it means business. In keeping with our high standards, we'll delve into the landmark betting features as well as the peculiarities that make Titanbet's platform unique. Stay tuned to learn everything in relation to the betting markets, deposit methods and promotions – we examined everything first hand.
Titanbet Signup – Easier Than it looks.
The firm's attention to customer need adds up to a fast and smooth registration. We welcome the lack of nonintrusive questions – just the basic ones – enough to create a user profile. Providing a name, address and email proves to be enough to get you started. You can do this from virtually any device that's connected to the internet and can display flash content.
Press the Join Now button to get started, and fill in the mandatory form to proceed to the next step. There you'll be asked to choose a complimentary bonus to go with your newly created account. In submitting all necessary information successfully, you'll be forwarded to the cashier where you can make a deposit.
Titanbet Licensing Information
Titanbet is fully licensed by the Malta Gambling Authority to operate as an online sportsbook, but you're probably still wondering what's in it for you. Well, a license like this changes everything. It means that a sportsbook has left the ranks of the obscure operators by fulfilling a list of requirements that are meant to guarantee customers' best interest.
Automatically, a license obtained from an arbitrary establishment denotes that checks that you'd normally do have already been performed in much larger scale. In other words, everything necessary for streamlined online betting is there. And if you meet any difficulties along the way you can bank on adequate support.
Titanbet Security – is it Safe?
As Playtech's protégé we expect nothing less but impeccable security from Titanbet. Be this as it may, throwing names around, won't help you make the right choice, so we dug a little deeper. Our implication proved to be correct – the platform's frontline of defense is pivoted around SSL encryption. If you're working directly with the company's site you'll see the domain is validated by a web license, unambiguously proving its legitimacy. This is a quick trick to pick out any knockoffs – look at the URL field, select "view site information" and check for a license.
As far as we know, there're no allegations of misconduct concerning users' personal information. We feel safe in the knowing that sensitive data is handled with due regard, albeit not plainly stated in the "Privacy & Security" tab. It takes some nerves to stuff the most frequently read article with legal terminology that only raises more question marks. Nonetheless, Titanbet convinced us it goes to great lengths to ensure the safety of its customers.
Payment Methods
It's often suggested that the progress of a sportsbook can be gauged by the number of available deposit methods. The operator in question isn't trailing the top betting sites by much in this regard. It has the staple components constituting the bigger part of top-notch payment systems for sports betting. Titanbet processes Visa Credit/Debit and MasterCard payments, but PaySafe Card and Direct Bank Transfers are accepted too.
Representing the e-Wallets, only Neteller is compatible with the platform. All of the aforementioned are, well-regulated and maintained mainstream payment services, therefore leaving no place for concerns as to whether their utilization is risk-involving. But this bookie doesn't simply hang on to the vestiges of other companies, it holds up its end of the bargain and does the utmost to expediate and monitor all transactions.
Titanbet Banking
Deposit Time Frame
Min. Deposit
Withdraw Fee
Immediately After Deposit
$10
No Fee

Payment Methods

MasterCard

Visa

Neteller

Paysafecard
Titanbet Signup Offer
We like being greeted with a to-the-point offer like this one. The free bet of €25 is transferred as a pending bonus immediately after you register. To activate it in full, you have to wager five EUR 5 bets on odds of evens or higher. The bonus becomes available only after the qualifying bets have been settled. Look up the additional terms & conditions that apply. Here's quick heads-up – the bonus is subject to a 6x playthrough. While such wagering requirements are not unheard of, it will be some time before your money becomes withdrawable.
Customer Support
This operator has all constituents of a solid customer support service. A live chat up and running all week long, phone-based helpdesk and trained agents ready to reply to your emails. Admittedly, one of the best-organized features of the whole betting platform, Titanbet's award-winning customer service, makes sports betting an enjoyable pastime for punters like us.
We highly doubt we'll see the bookie losing customers on account of a poor technical support. One little thing though, the hotline for direct customer calls is open from 8:00 AM to 0:00 AM GMT. With all due respect to all the work and resources the company has committed, but we'd still like to see a telephone center operating 24/7.
Company Information
Founded In: 2009
Website: sports.titanbet.com
Headquarters: Malta
Licences: MGA
Support: Live Chat, E-mail, Phone
Bookie Features
Welcome Bonus: Bet €25 Get €25 Free
Sports Available: 24+
Min. Deposit: €10
In-play Betting: Yes
Mobile Betting: Yes
Layout and User Experience
Titanbet's betting platform owes its excellent performance to the world's largest gaming software developer. The guys from Playtech made possible the remarkable quality of service this sportsbook is known for. Initially, the site comes across as being a bit on the cluttered side, but after a careful exam, we discovered no inch is wasted. Let us give you a few pointers. On the left-hand side are located in a descending manner the sports markets along with a number of quick links.
Those lead to the popular betting markets, usually featuring some of the major sporting events. The site itself is brimming with tabs of useful intel like Top Bets, which lets you know what the majority of members is betting on. All in all, TItanbet's site and mobile application have a spruce design that synergizes with their functionality.
Betting Markets
Even from a mile's distance, we could see, the operator prides itself on its impressive scope of mainstream sports betting markets. The noteworthy wagering prospects are subtly slanted towards the football, tennis and horse racing – loving punters. This doesn't mean that the markets are thin on sports other than what we mentioned so far. We found there, strong American sports presence together with golf and cricket nuances. Plus, optional volleyball, politics, and entertainment that could make an appearance at some point during the year. All in all, it's obvious that the market structure is constantly being reshaped with new additions, so you could expect everything and anything to end up there.
It appears as though the bookie Is gradually easing into the eSports markets for betting and is catching up in its own time. The change is afoot, and we already see the first positives spurred by it. Titanbet's eSports section is in and of itself good enough to sustain your year-round betting endeavours. There's no shortage of attractive betting lines and the selection is persistently renovated with fresh propositions.
Popular Betting Markets at Titanbet
Football
Tennis
Golf
Snooker
Motorsports
Champions League
Wimbledon
US Masters
World Championship
Formula 1
UEFA Europa League
French Open
Ryder Cup
The Masters
Motorcycling
Premier League
Australian Open
Solheim Cup
UK Championship
Nascar
Seria A
US Open
Presidents Cup
The Masters
Rally
Bundesliga
ATP Marseille
U.S Open
World Open
Speedway
International Friendlies
Davis Cup
Open Championship
European Masters
Supercars
It's not like they are being thrown together – the operator is pretty consistent in dishing out odds on the major eSports events – MLG, Dreamhack, and Blizzcon – you get a premium cut of the action and the chance to put your money where your mouth is. As for the games – it's an all-hits selection that will whet your appetite for betting. Fortnite, League of Legends, Dota2, Counters Strike GO, all of it takes part in the betting haze on equal footing with the mainstream sports.
Titanbet Mobile App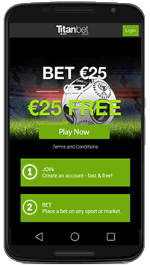 The site is optimized for mobile browsing, in agreement with the common norms. Its design is responsive – no overlapping elements, no awkward viewport. Insomuch as it's possible, content will look sharp and in place no matter how small your display is. The smaller screen doesn't mean you have less freedom though. Both Titanbet's application and mobile website pack in a load of features and are pretty much interchangeable together with the desktop site.
Talk about a smooth transition – you can bet on the go or choose to do so from the convenience of your home or office. Inasmuch as installation requirements – there isn't anything in specific, both an up to date iOS device and a contemporary Android smartphone or tablet will do you justice. Mobile users can also rely upon a remuneration scheme steadily giving out free bets as they wager on. The mobile-friendly software of a betting company can either make it or break it. Titanbet grounds the reputation of its sportsbook on a solid mobile platform, entailing the best this bookie has to offer.
Titanbet In-Play
An educated guess shows that, for the most part, punters rely on live betting to build their bankroll. A statement like that rings ever so true when looking at Titanbet's In-Play segment. While it's not the fanciest of them all, it brings to the fore all benchmark features characteristic for this betting style.
First off, you get live action on almost every game featured in the Sports section, as opposed to just a selection of events. The diversity of markets is a far cry from what the initially released product had to offer. It's fair to say that, the bookie has spent the better part of the past 8 years working on its live betting product and this shows.
A cogent argument that will point your attention in that direction, is the number of supplementing gizmos like animated graphics, flashing live scores and odds. Above all, instead of static, every line is priced up by means of dynamic odds, which gives punters a wholly different plane to explore. So, the odds change as the action swings back and forth. Albeit hard to distinguish, odds scraping looks on point to our keen for details eye. The practiced of punters will, no doubt appreciate this precise implementation of live betting.
Where Do We Go from Here?
Though it's not a bookie that prioritizes quality over quantity, still Titanbet has got quite the expansive field of interest regarding the major sporting events. It' making a deliberate effort to be up to snuff with the latest tendencies, thus tapping into new and exciting markets and bonus schemes. We've come to get top-end betting experience and now know that Titanbet will keep its end of the bargain up. With the latest shift in emphasis, the bookie seems to be gaining ground in its quest to the top spots. Its mobile product and bonus are exactly what we like to see from the newer operators with big ambitions.

Preferred Bookmakers In Your Location