Political Betting Websites — "Yes You Can"
Some say politicians are a lot like pro wrestlers— worst enemies when the cameras are rolling but besties off stage. If you struggle to imagine liberals alongside conservatives holding hands and singing Kumbaya that's one more reason to dabble with political betting. No matter if you buy into the authenticity of their political agenda or not, for the unbiased observer political debates are nevertheless entertaining or should we say "boring" to watch. It really depends on which side of the constantly streamed political waste by the media you're standing.
Why not take all that as the next out of color joke—courtesy to the snob wannabe showmen. We all know politics smack of incompetence and peculiarity. Political betting is not to be taken lightly though, while not a real money-spinner it actually gives back if you elect wisely. We'll try once and for all to lift the veil on this rather vague betting market, for real, we hold to our policies.
Could it All be Rigged ?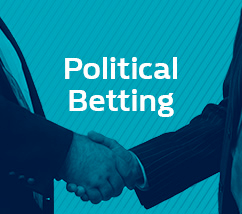 To be fair, we too don't know the answers. But as the saying goes — you're only so good as your last success. And usually, success is measured in numbers. Fortunately, social studies are geared to crunching numbers and elucidating the trending proclivities on a global scale. The power of social studies is not to be depreciated. In actuality, they provide a pretty adequate outline of the current political climate. Yes, millions are being invested in those every year and for the most part, they are a dead give away as to who to bet on. To bring you around to our point of view let us elaborate a bit more on that.
Countless surveys permeate the web, but the top shelf is reserved for the ones with political nuances. They are an accurate and clever way of gathering intelligence because of being conducted from home— in an informal and spontaneous environment. Politics are a far cry away from sports in some respects, to be specific, skills and technique hardly play a role— everything boils down to popularity and in turn—votes. As ever, doing your homework will only do you justice ahead of placing a bet. In other words, social researches are what you need to keep your eyes peeled for.
List of the Best Betting Websites
Bookie
Bonus
Min. Deposit
Details
Action
Grosvenor

Rating 5/6

Odds x2 on
Your First Bet
$10

Bet & Watch UK and Irish Racing
More than 35 Markets Available
Founded: 1970

Bet

Now

Grosvenor

Review
What Goes Up Must Come Down — Betting the Individuals
Politicians are strange cats, at the very least -very slippery. They are nearly impossible to pin down concerning their policies on the topical importance, and for that reason politicians often come in for lots of criticism. But there is merit in this subversive conduct- that is a rare chance for the astute bettors to transmute a letdown into winnings. When, how and by what means is a politician going to be dismissed is a hot topic that invigorates political betting greatly. If you manage to hit the nail on the head, the demise of a reckoned political figure could pay serious dividends.
The nuts and bolts of political betting gravitate towards understanding how does one grab the public. Good as your own judgment will be, there are a number of political shows discussing at length the subject matter. So if you don't feel comfortable spelling out the outcomes in this intimidating field of deceit and intrigues you can fall back to the televised part of it and soak in the witticism of the night shows. You'll have to factor in whether the media is unbiased though, as some don't simply sell their airtime, but promote certain political views.
By the Rumors Sell the News — Political Betting Markets
However much the political leaders are drooling over the elections, the best political betting sites are quick on the uptake too. They learned to build on the massive interest in the elections. At first glance, UK and US elections jut out a notch before the rest. Betting on the General Elections means to essentially call out which party will gain number superiority. Be it as it may, it's scarily easy for your plans to fall through when it comes to solving such a multi-layered quandary. We reckon that figuring on the course of action on a single person is a far more feasible goal, therefore we want to put the stress on presidential elections.
First of all, the headlines circulating the web are not even doing a good job engaging the public far less helping the betting electorate. Our advice is to read between the lines of press releases, just for gist, don't get too hyped over them. When choosing the proper candidate to bet on, bear in mind their upbringing and professional background. Largely, the voice of the people favor aspirants who are seemingly the better fit for the job, putting aside the populist talk.
Some presidential candidates might be angling straight for the jugular by the means of underhand techniques. At the first signs of a potential brawl flaring up, it will be in your best interest to change gears or even markets. There is a number of political betting sites that deal in bets for Nominees, Party Leader and Prime Minister. Don't go in too deep, unless feeling adventurous gloss over markets as Next Country to Leave EU. A healthy-looking binary bet is Will The US elect a female president at or before the 2028 election.
Should I Engage in Political Betting ?
Every now and again, the field of available markets for the topmost sports shrinks big time and widening your scope comes in handy. Although you can't get around the lack of sports betting lines, political ones provide a partial solution to the problem. If not for the sake of diversification, then at least it's worth keeping up with the odd updates as they will be available way in advance. We can't vouch for a huge variety when it comes to the betting types, mostly outrights with a subtle taste of handicap action here and there. For the forex-aware spread betting is quite the viable option in its own right. Betting the spread involves virtually no limitations as opposed to the fixed-outcome type of lines. As another arrow in the quiver of political betting, we'd like to point out its flexibility.
If you're on the hunt for discrepancies look no further. In politics, things are changing rather rapidly and give you the breathing room to leverage harbing techniques. For instance, the odds of a Trump win exploded from the dreadful 25 to 1 to the surprising 6 to 4 ahead of the first presidential debate. This comes to show how minimal investments on the right "players" could, in turn, translate into a win-win situation later on. Even the severe underdogs shouldn't be written off because the tables can turn at any time.
Buying Votes is a Crime But Laying Odds Makes a Dime — Betting Exchanges
The cure for this itch called "limited range of bets" are the betting exchanges. This is where punters are negotiating the best deals and politics is no exception. Most revered political betting sites take onboard the idea for betting exchanges and it serves their users wonderfully. Let's say you like the prospects of Oprah Winfrey winning the elections, but handing her resignation shortly after, due to whatever reason, but no operator props up this particular line. Now you can get down to business with one of the many exchanges and cross swords with fellow punters who find your odds reasonable. Leave behind commissions and get as much political betting action as you desire.
However, most bookies readily act on coherent proposition bets, meaning that you stand a chance to get priced in on a deal after raising a corresponding inquiry. If in speaking with the bookie of choice you still can't find common ground why not try to place the good old phone bet with some of the well-reckoned political betting sites.
Can Bettors and Politics Ever Be on the Same Page?
So far the political market has proven to have merit without conflicting with the fundamentals of online betting, which makes it a legit alternative. Of course, you can't leverage the ever so sought after live betting but the rest of the field is covered— be it outrights, spread bets or handicaps. With the prospect of digitalizing voting soaring, we have to give it credit for becoming the next big thing in the online betting world. All the signs are there, it's not a matter of "how" but "when". However much we're banking on sports betting, politics market is a force to be reckoned with.

Preferred Bookmakers In Your Location