Neteller Betting Sites – the Choice of Sensible Punters
Neteller didn't start catering to gamblers until the year 2000, but shortly after it reported that the astounding 95% of its revenue are deriving from that very occupation. Now the firm is largely renowned for processing payments to and from gaming operators, albeit its portfolio suggests other impressive undertakings as well.
Despite the diverse projects the company has taken on throughout the years, its flagship product remains the fast and secure e-wallet used by punters worldwide up to this day. As the players putting their trust in Neteller mount up, its service becomes better and even more inclusive.
Our Neteller review aims at evaluating the company's service through the lens of the devoted betting enthusiasts that we are. You'll learn how to open an account and start using your e-wallet to move money around the betting sites that work with the platform. We also touch on things like fees, security, loyalty programme and other related hot topics.
What is Neteller?

In a nutshell, that's an e-money transfer processing provider which serves as a middleman between individual clients and betting sites, merchants or other online service providers. Thanks to Neteller's end-to-end product, the end user can load and withdraw money in a number of different ways. It's been in the business of processing online gambling payments for a decade now and has an excellent reputation. Not only has Neteller impacted the world of sports betting with its fast and reliable transactions but it has also opened a way for punters to leverage the advantages of prepaid card solutions.
Best Places to Bet with Neteller
Although not all bookies are standing in a line to greet Neteller depositors with a noteworthy perk for their effort, we witness scrumptious deals every now and then. Enough to keep us incentivized to continue nosing around the best betting sites for new bonuses. Indeed, online casinos are the hotspot for welcome offers of this type, but we know a few sportsbooks that are willing to go the extra mile and get casino lovers and sports betting fans paying with Neteller on even ground as far as sign up bonuses go. Bear in mind that most bookies prefer card deposits and have reserved the best part of their reimbursement scheme strictly for this of payment processing method. Nevertheless, we'll keep you posted on the bookies that will make it worth your while, and should a change of tack come into play, you'll hear it first from us.
How to Set Up Your Neteller Account
Neteller registration is not one of those procedures that drag on for hours, to the opposite, it's quick and easy to complete. There aren't any million-dollar questions in there, just throw in your basic information and e-mail you know the login of, because you'll have to access a confirmation message at the end of the registration. Finally, you'll be given a unique Neteller secure ID. Commit to memory to keep a record of this six-digit number somewhere safe because it's required for the completion of certain transactions.
Can I Bet on the Go with Neteller?
As one of the best instant payment methods, loading money into your bankroll with Neteller is very streamlined and can be done via a mobile device. The wallet is also accessible through a mobile app, thus making it super convenient to check your balance and receive notifications for processed transactions. You don't have to remember IBANs or card numbers and risk your privacy being compromised since that sort of delicate information is stored on Neteller's secure servers and is never being disclosed. With a world of functionality in your pocket and easy and secure login, you can act on the instant whether it's a reload or a withdrawal request.
Is My Money in Safe Hands with Neteller?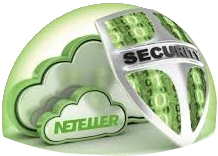 Partially, Neteller's runaway success has to do with the company's respect-inspiring compliance with industry's standards defined by the international financial regulator. As it can be expected, particular importance is attached to page encryption. All customers can lean on stellar encryption to keep their sensitive information out of harm's way. Not only is all the data encrypted, but it's stored in a secured data centre, which is supervised non-stop both by agents and specialized software. The company tops it all off with an unprecedented live support. In case that you want to signal any suspicious behavior you may have noticed, you can do so at any time to the support team standing by 24/7.
How to Withdraw from Neteller?
One of the best ways to take money out of Neteller is via a bank transfer. You can request a withdrawal to a personal bank account with just a few clicks. Go to the Money Out segment, choose "Bank withdrawal" and provide the required information. As an extra security measure, a micro deposit will first be sent to your account, only visible on the bank statement. What you need to do next is to enter the digits of the received amount, without the zeros in the correct field and wait for your money to arrive. The whole thing shouldn't take longer than 5 business days.
If you're looking for something more authentic, Neteller is issuing actual banking cards. That product goes under the name Net+ Prepaid Mastercard and is designed to give you instant access to your Neteller balance. It goes without saying, that functioning on the Mastercard platform, the card is ATM compatible. With it you'll be able to cash out from pretty much every online sportsbook.
This All Sounds Great, But Do I Get Charged for Using Neteller?
There's a host of different methods capable of uploading money into your Neteller balance, each of which entails different commission. Boku (9-45%), AstroPay (5-7%), BOLETO (5%), epay (2.5%) and bitcoin (1%) is just a glimpse of the options.
Let's not forget the foreign currency fee of 3.99% plus the average daily exchange rate every time a foreign currency is involved in the transfer. That's why we strongly advise you to unify the currency used in your betting and Neteller accounts. Regardless, the company is determined to maintain a fixed model of taxation in an attempt to protect its customers against exchange rate oscillations.

In the unlikely event of not using your Neteller account for 14 months and still, have a positive balance it will become subject to an Inactivity fee up to $40 USD per year. After three years of inactivity, your account will be closed. The company guarantees that under no circumstances you'll have to pay extra due to a negative balance.
Does Neteller Reward Regular Customers?
We know there are sensible punters who would like to benefit from preferential tariffs and fortified security for their funds, therefore we'll let you know what to expect from Neteller in this regard. Irrespective of the exact structure there are great features you can look forward to, starting with the 24/7 VIP Chat. This is the place to spend quality time discussing anything that may be of interest to you and get the answers without delay. Among our favorites is the cash-back of up to 0.5%. However small the number may seem at first, the return adds up in time and makes up for small expenses.
Of course, various other boosts will prop you up as you rise through the ranks. We are talking about free withdrawals, multiple currency accounts, a mere 1% FX fee, advantageous ATM withdrawal and deposit fees and others.
Save Time and Money Betting with Neteller
Overall, we are quite happy to have messed around with Neteller's full range of services. We are now convinced it has a lot to offer to punters, keep in mind we are no strangers to good online payment alternatives. For us, this e-wallet remains one of the industry's leading tools, and you can be safe in the knowledge that it won't get outmoded soon.
We've started on a high note plain sailing the registration and funded our newly made created Neteller balance in a matter of minutes. We came to know more about the measures uses by way of customer protection and we feel compelled to rely on the platform's security features to keep fraud at arm's length.
The company has made a name for itself, which up until now elicits positive reactions not only from people in the online payments field but consumers too. There're many things in Neteller that intimate the right message to us as punters, and we are the type that listens to their gut.
More Payment Methods