Skrill Betting Sites – the Perfect Place to Have a Flutter
Many punters who have been around the block for a while have heard about Moneybookers – one of the first e-wallets to kick off online sports betting. Some several years ago the e-commerce platform became ownership of the UK-based Skrill Limited. Though it switched guise, punters still recognize its unmistakable quality of service that is so essential for responsible betting.
You might be asking yourself why is Skrill so widely accepted and whether it bears resemblance to the American giant PayPal? We'll answer these questions from the perspective of seasoned punters who know what's best for their money. In our review we go over things like fees, setting up an account, pros and cons. The firm is looking to make waves and challenge the biggest companies in the industry, so let's see if it measures against them.
Opening a Free Skrill Account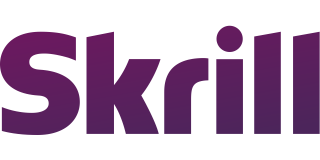 Do you want to get into gear and start betting at the major online sportsbooks? Skrill will save you a lot of time with its quick and comprehensible registration and instant balance transfers. If you still haven't, go to the official website skrill.com and select "open a free account". You have to input a valid email, address line, two names and that's about it.
After you're through the registration, the system will notify you that you can benefit from a 2-factor authentication and a quick PIN login. Those are vital security features we discuss later on. Before loading your Skrill balance you may be asked to verify your account. For example, U.S regulations demand that clients' social security number gets validated before they are granted full access to their wallet's functionality.
Skrill Wallet – Where Can You bet With It?
Provided that account balance is positive, you could apply for a Skrill Virtual Prepaid Mastercard. This essentially allows you to use your account balance everywhere Mastercard is accepted. It's all done virtually so you don't have to safeguard a real plastic card or anything like that. You'll get a genuine 16-digit number, security code and expiration date, everything you need to register a credit card.
Furthermore, It becomes free to top up your balance with a bank transfer. And just as adding a new card you can load money into your account online and on-the-instant. It's all looking up for first timers because your very first card comes free of charge. On the flip side, unfortunately, only residents of certain European countries can order the card, and there's an annual €10 tax, and an ATM fee of 1.75% associated.
List of the Best Skrill Betting Sites
Bookie
Bonus
Min. Deposit
Details
Action
Grosvenor

Rating 5/6

Odds x2 on
Your First Bet
$10

Bet & Watch UK and Irish Racing
More than 35 Markets Available
Founded: 1970

Bet

Now

Grosvenor

Review
What is Skrill Account and Why Open One?
We are big on the idea of moving money securely across different sites without disclosing any personal information. This comes in useful when you want to give a go of many different sportsbook safe in the knowledge that none of them possesses your banking information.
Nevertheless, using the company's end-to-end service you can harness various other benefits like loading money lightning fast with a bank card, prepaid card or bank transfer. Topping-up your Skrill wallet with a Paysafecard is also an option, the two are perfectly compatible.
Do you want a flexible application field for your money? With Skrill, you are able to deposit in nearly all major betting sites with the push of a button. The company has more than 10 years of experience when it comes to sports betting. In that time, it has established a position of trust with the top dogs in the field, that's why the e-wallet is so universally accepted.
Should you choose to go down the path of a VIP user you will profit from lower fees, 24/7 support, and higher transaction limits. Gaining the silver status will afford you a personal account manager and a 100% money back guarantee.
Is Skrill a Safe Payment Method?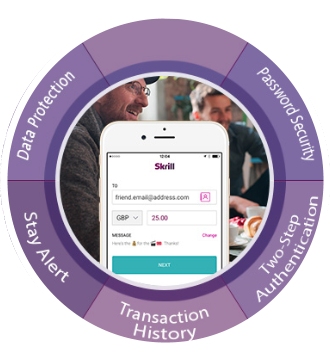 It seems that taking care of customer security is bone-deep in the firm. Above all else, Skrill doesn't share your personal information with anyone, be it a card or bank details. All you'll ever need is your email and password in order to make a payment. The data they do send is encoded with top-notch encryption in agreement with the highest criteria in the industry. Endorsed by the Financial Conduct Authority (FCA) it's abundantly clear that the company knows what it's doing and more importantly understands online security.
One of the advanced security features that Skrill takes advantage of is Google Authenticator – an app that can be installed on your smartphone. What the application does is generating login codes every minute or so for an account you linked it to. It's a nice insurance against a potential security breach.
Another great modification you can buff up your account's security with is PIN authentication. You can set it up literally in seconds as an extra login, withdrawal or payment condition. Otherwise stated, your PIN is a 6 digits number that serves as a second line of defense around your wallet. It seems that Skrill has really done a lot to secure the commonly known loopholes.
Skrill Review – Incurring Fees
As the non-dominant player on the e-money market, Skrill simply can't afford the free checkmark too often. There's a transaction fee, currency conversion fee, withdraw fee and you also have to pay when loading money into your wallet. The cheapest way to fund a Skrill wallet unsurprisingly is credit card – a mere 2.9% fee.
As we already mentioned Paysafe card is an excellent payment method if you want to keep everything in check. Funding with your Skrill balance with Paysafecard will cost you 7.5% of the deposit. A fee that is not unheard of but still feels somewhat high.
Another thing Skrill is known for is its deliberation in bridging the gap between e-wallet and crypto-wallets. At the cost of 1.5% for EUR and USD transactions, users are able to exchange their balance to several cryptocurrencies including Bitcoin, Bitcoin Cash, Ethereum, and Litecoin.
Why Go Skrill Instead of PayPal?
If you're debating going with one or the other, we'll try to make your decision easier by pointing out the main advantages Skrill has over PayPal. It may not sound as too much, but it's considered to be the underdog after all.

From the catch-up position, it's in, Skrill has to come up with the more creative offers to keep the loyal consumer on its side. A case in point is the aforesaid VIP program, which introduces preferential rates, around the clock robust customer support and a bunch of other advantages.
There's a clear-cut shift in emphasis from merchants to individual clients, which we have to say is in Skrill's favour. It transpires, even more, when we take into account that PayPal doesn't have a sound contribution system going for its customers, while Skrill has been compensating its constant clients almost since day one.
Customer Support Service
In the capacity of an international company attending to the needs of millions, Skrill boasts a three-channel helpdesk service. The web-based chat platform appears to be the one creating, the most personalized user experience. Before you know it, you will get in touch with an agent who will take on your case. Just because this is the quickest method of all three doesn't mean there's no merit in sending an email or using the hotline. The former is especially helpful when for some reason you can't get access to your account. If you prefer to articulate your problem over the phone, Skrill has a dedicated line available from 8 am to 5 am GMT all week long.
Skrill Overview – Stay on Top of Your Bankroll Management
It's often insisted that moving money across several sports betting sites is slanted towards the gutsy punters or those who are not so concerned with security matters. Well, using Skrill you'll make sure there's no chance involved in the way you handle money. Although several e-wallet companies claim to do the same, this one delivers the full package that we all would like to see.
The platform does frequenters one better, incentivizing with tailored promotions, shields your banking information and keeps trouble at bay by using strong encryption. Skrill's years of experience in sports betting branch reveal a deep-seeded professionalism in dealing with payments related to gambling. Things don't get any better than this, so yes, we've been using Skrill, it's perfect for betting and we'll probably keep using it in the future.
More Payment Methods