Pool Betting or Pari Mutuel System – A Comprehensive Guide
Unlike conventional betting, Pari-Mutuel – also referred to as pool betting – is an absolutely legal activity unrestrained by regional legislation. It's usually administered by a state or national organization. In as much as its accessibility and enticing format, we think it's a step forward for all devoted sports betting fans. It's a fun way to go head-to-head with other punters and engage them in a nail-biting competition for all the marbles.
However, every sports betting effort is one part luck and two parts skill. So, how do we best approach this pool-betting business? We rise up to the challenge with a comprehensive guide on the basics that will make everything come together. But above all, our main subject will be trying to figure out if Pari Mutuel is a profitable activity and if so – how to make money out of it. We'll go into further detail in the lines below, so if you want to educate yourself on the ins and outs of Pari-Mutuel betting, by all means, read on!
What is Pari Mutuel?
A betting activity with a framework slightly reminiscent of a lottery. The game finds its origins in France as well as the name itself, which literally translates as "mutual betting". This is a good way to put it, as the number of participants influences greatly the prize pool aggregated after all betting is done.
Prior to a scheduled fixture, a table with selections is put together without any incentives hinting at any of them initially. As people start wagering, a table of temporary probability odds will appear. These numbers change constantly because they are not an objective representation of the true chances of an outcome to occur, but rather – a reflection of the popular vote at that point in time.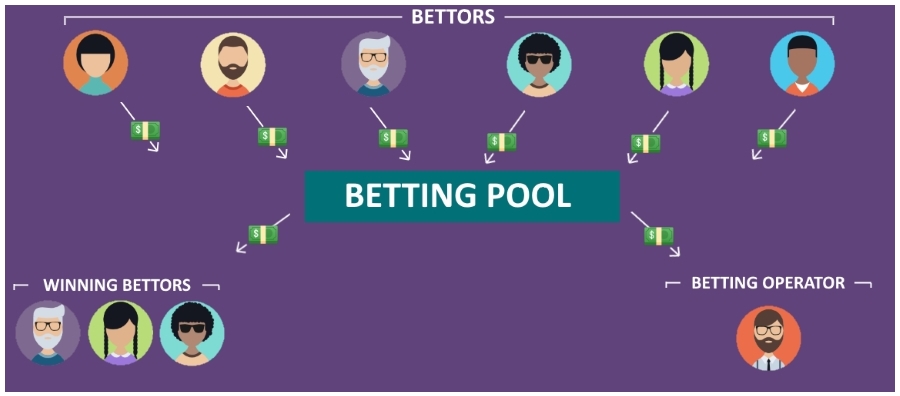 As mentioned earlier, rarely do we see online bookies hosting pool-betting events. This means there's no regulation of outlaid bets by means of odds and special promotions. The winnings for both players and host are formed based on the wager-accumulated pot. As you can see, the rules do not favour the implementation of fixed odds, which explains why not all punters endorse the idea, albeit run-of-the-mill.
Figure Out the Pari Mutuel Odds
Calculating how the payout is apportioned concludes in three simple steps. Firstly, the total of all incoming bets is summed up. Then, depending on the type of the betting event, the winner and payroll are determined. After the house subtracts the rake from the pool, the rest is proportionally distributed between the winners, as opposed to betting on fixed odds and expecting a return multiple of the odds.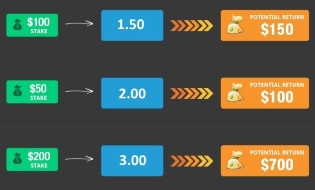 We already pointed out that how much you staked is relevant to the share of the pool you're going to receive. Aside from that, how many people have invested in the correct outcome is also important, because they will have their part of the jackpot too. Here's the mathematical expression of how this works (after taxation): Total Outlay / Sum of Winning Wagers = Return Per $1 Invested. You then go on and multiply your stake by this ratio, so stake size counts in calculating your return.
If we look at the formula for a second, it's easy to notice that a big number of correct predictions result in a small pay per winning bet. Every betting expert worth their salt would point out that rules of this type make it difficult to calculate the expected return and probability of winning. The good news is that the regulatory bodies oblige the organizer to guarantee at least a $1.10 return per dollar wagered, so this kind of evens things out.
Pari Mutuel Example
By way of example, let's consider a theoretical horse racing event with seven contenders. The winning conditions of this game are to predict who finishes first. A total of $435 was wagered as follows:
$20
$100
$34
$200
$81
The majority of punters sniffed out the winner of this race and in truth number 4 places first. Now, all we have to do is to tote up all bets. The total equals $435 as we already know. 15% goes to the initiator – that leaves us with 435 – 65 = $370 up for grabs. Next, we have to work out the wager/ return ratio, which is: 370 / 200 = 1.85. That means if we wagered $5 our total return would be 5 x 1.85 = $9.25. With this example, our goal is to instantiate a small scale Pari Mutuel event, but they come in all shapes and sizes and regularly scale up to four-five figure prize pools.
This is the place to touch on the common bet types that can earn us a dividend of a Pari Mutuel pot. So far, we've looked through only the case of win wagers, but a whole multitude of other options is waiting just around the corner. Diversity is one way of overcoming the imperfections you find in a certain wager type. Trying a different tack can do you justice most of the time if you struggle to give adequate predictions of a particular variety. Let's see what other propositions one can meet surfing around the web.
Placing wager
A world of opportunities starts with a minor change, so is the case with Place Wagers. While for the purpose of a simple win wager you must predict the outright winner, a Place Wager could also apply to second place finishers. Is it any better? It depends, we like to have options though.
Each Way
Arguably, the most commonly seen wager type on the UK horse racing market, Each Way also appears in Pari Mutuel structures. It's a good way to change gears because of its combinative properties – Each Way includes a win part and a place part. Not only does this improve the margin for error, but the betting line itself is extremely easy to find.
Trifecta
Another wager that constitutes a large amount of the overall expenditure on horse racing. The nuts and bolts of it are the prediction of the top three finishers in the correct order. Pick this kind of Pari Mutuel if you have a knack for harder bets – when fewer people manage to nail the trio, the profit for each of them will be bigger.
Is Pari Mutuel Any Good for Conventional Punters?
Despite the sheer amount of sportsbook comparing sites, you might still have your hands full shopping for odds and trying to find decent value in what's on offer. This is where the Pari Mutuel's structure comes to the rescue – you're not required to beat the operator to the punch in the odds game, simply back the selection you want.
Controlling stake size allows you to get in on the act for a bigger reward, and that's not all. You can try a whole new ball game every time because of the many wager types incorporated in Pari Mutuel. This is an original way of getting a kick out of sports betting with a minimal investment. All things considered, it's a worthwhile activity that can earn you money on the side.
Sport Betting Guides
Preferred Bookmakers In Your Location