Cash Out Betting Sites – Lucrative Deals, Flexible Wagers and More
You might be wondering what kind of betting sites would offer the option to cash out. As a rule, those are the most technologically advanced online sportsbooks found on the web. Because this is a relatively new feature, not all bookies have implemented it yet in their platforms, and that sets the ones who did way ahead of the rest.
Call it a safety net if you will, cash out combined with In-Play produces one of the most sensible ways of betting known to the punters' community. That's why we'll be looking into it in detail in our extensive review. There are even more strategies you can employ with the help of the best cash out applications and mobile websites, so we'll have those explained as well.

However you want to look at it, it seems the feature in question is an indispensable part of sports betting and deserves a lot of attention. We are here to shed light on how to use it to your advantage, but also show you where to draw the line. If you want to get to the fun part, let us tell you right now – all sites we feature here are an excellent choice if you want to get familiar with cash out.
What's Cash Out?
Compared to pre-match betting where you have to wait until the match reaches its natural conclusion, cash out is a breath of fresh air. With a name as apt as this, it's not hard to imagine what action is involved in it, but we will still break the concept down to bite-size pieces.
Betting sites and applications that give you the right to cash out early, essentially allow you to settle your wagers whenever you think is the best time for that. It's abundantly clear how this puts you in a favorable position, but there's more to it. When this functionality was first rolled out, it was available on only a selection of betting markets, but now, the best online betting sites with cash out have already integrated it into the full range of sports they offer.
Best Cash Out Betting Sites
Bookie
Bonus
Cash out
How can I Cash Out my bet?
Action
Grosvenor

Rating 5/6

Odds x2 on
Your First Bet
$10

Bet & Watch UK and Irish Racing
More than 35 Markets Available
Founded: 1970

Bet

Now

Grosvenor

Review
Why's There a Need for Cash Out?
Simply put, you need it to stay on top of your game. The best betting apps and sites with cash out don't include it only because it adds to the experience, but also because it can make the difference between winning and losing. It's not mandatory but highly recommendable to be able to settle a wager midway.
Imagine this scenario – the soccer team you've bet on is leading comfortably after the first half but in the second they begin to slow down and slowly lose the initiative. Now, if you know a little bit about soccer or any sport for that matter, you'll be able to realize that if the other team controls the ball most of the time they are going to score sooner or later.
In a situation like this, it's a real blessing to have the cash out button handy and spare yourself the last nail-biting minutes. Secure a clean sheet and a profit with the push of a button and live to fight another day. This is the preferred by most punters way of looking at it, and we have to say, in all probability, the smartest one.
How Do I Know If Cash out is Available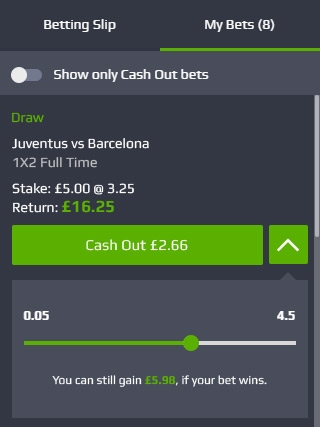 Whether or not you can avail of this functionality is usually indicated by a small icon next to each of your unsettled bets. If an icon is missing, then the wager is not eligible for cash out. Usually, this is the case when the score is being updated or an event is near its natural conclusion. The button could be in greyish tones instead of missing, this also means it's not clickable and the feature is temporarily unavailable.
There are those events that are not designed to have a cash-out option, to begin with. You will find that usually, those are the less popular matches, which are not considered to be as exciting as the big derbies. Cash out is, by design, a feature that's supposed to compliment the best aspects of televised sports like turnarounds, clutch moments and competitiveness. So, if the predictions for a particular match are for second-rate quality of play, the chances are the feature will be missing.
How Is the Cash Out Price Being Calculated?
First, let's get it straight, cash out is advertised as a feature that functions during the entire length of a match, but this is only on paper. When you actually start using it, you may notice that a few minutes before the end it's already unavailable. This has everything to do with how the cash out price is being formed. Namely, its connection with the In-Play markets.
It's guaranteed the price you cash out on will be different than the one you took initially because its's formed based on a formula that includes both variables. The cash out price is a function of the price you took and the current In-Play price for the same bet. Since the In-Play odds are constantly being updated while an event is in progress, the cash out odds will fluctuate accordingly.
How to Cash Out a Bet?
If you feel confident that the current price you're offered is the best you're going to get, then you might as well cash out. This, you can do from your bet slip (at least most sportsbooks choose to stick to the rule, as that's the first place we normally look). If that's not the case, then it should be the My Bets section – all bookies have that. It's supposed to grant you quick access to your active (unsettled) bets.
There you'll find a list of your open bets together with the potential winnings and current cash out price. To settle a bet early simply confirm that you want to cash out. If any changes occur during that time, you'll be notified and shown the new, re-evaluated price. If you're still happy with it, you'll have to confirm one more time.
Is it Possible to Cash Out an In-Play Bet?
If your guess is positive on this question, you guessed it right. There isn't something, a technicality or whim that the best in the business won't provide in order to please their customers. To keep things as fair as possible, more and more of the best sportsbooks try to meet the demand for in-play cash out.
This is how we get to the point where we need to put together a detailed explanation of in-play so as to weigh up its pros and cons. So, obviously, In-Play is another landmark sports betting feature that allows us punters to place live wagers on events that are still being played. Coupled with cash out, this means that you can bet and settle your bets at virtually any time before the final whistle.
Inarguably, that's a significant advantage over the pre-match bets because of the enhanced flexibility and control. We can agree that you are already way ahead of the game by wagering In-Play, so the additional leeway to settle bets on command is yet another big plus.
Is Cash Out Available on Mobile Too?
Cash out
Partial Cash out
Cash out via the mobile app
Minimum deposit: $10
Regulated by: MGA, UKGA
$50 Welcome Bonus
Yes, it's available, and this is maybe the quickest way to make amends for a decision you regret. The best betting apps with cash out accentuate a fair bit on this facility because it's one of the most sought-after betting features at the moment.
So, how does it work? As we already explained, you have to sign in to your account and select My Bets. There might be a hotkey for direct access too. Once you have your open bets at your fingertips, you'll see which ones can be cashed out.
The main benefit of being able to cash out on your mobile is, without a doubt, the prompt reaction time. Anywhere, anytime, at the first sign of a threat, you can hedge in your winnings or put a lid on your losses.
Can I Cash Out an Accumulator?
To give a clear-cut answer to the question – it's possible to bank an early profit from an accumulator. Even an in-play multi-selection bet won't be a problem with the best cash out betting sites. Imagine that your 7-folder is hanging on a Monday late night derby – this isn't for the faint-hearted, we can tell you this much! This will be a good time to check your betting account for an option to settle your bet early. However, if the option is available, it still isn't something you should choose on the spur of the moment, but only after a careful consideration.
How to Spot a Good Opportunity to Cash Out?
Cash out is a way out of trouble, but even so, the downside is that it lowers your payout. That's why you shouldn't overdo it. On the other hand, there are no hard-and-fast rules to tell us when is best to take advantage of the feature – it's all open for interpretation. The best adviser would be the years of betting experience because although history doesn't repeat itself, it rhymes. Here's the list of tips, our rich experience with the best cash out websites helped us assemble.
If you want max value, wait as long as possible, last minutes or last leg, depending on the bet type
Buy the rumors, sell the news. If you've heard of a cardinal change in the line-up or something else that could affect the outcome, better not risk it.
If you think the value is fair, considering the implied odds under the current circumstances.
How to Cover Your Losses
For the most part, the best cash out betting sites offer you flexibility when you need it the most. Quite naturally, as a result of this, cash out is widely being used to cover losses. Not so much to fix or edit a bet as to prevent further losses by taking the little value that's left in a losing wager. Actually, that's quite generous, even if seemingly there's no way your team is going to get back in the game, you can, for all its worth, salvage your bet. Don't expect an overwhelming price for a losing wager though, but hey, it's still something!
Conclusion
There you have it, this is our know-how of the best betting sites that have the cash out option. As we've seen, there's no magical formula to determine when and how to use the feature, but there are things we can do to maximize its efficiency.
The cash out sportsbooks are there not just to help you atone for a poor pre-match prediction, we believe they bring out the best in punters and sharpen their instincts. If you want an action-packed betting experience where you're proactively engaged with what's going on, then we highly recommend you try the betting sites we feature here.
Sport Betting Guides
Preferred Bookmakers In Your Location