Expected Value Betting – Join the Brotherhood of Rationally Thinking Bettors
Coming all the way from probability theory, expected value (EV for short) has put down roots in the hearts of sensible sports betting enthusiasts. It's typically calculated to measure the average of a variable with a fixed amount of values over a prolonged period of time. Formerly known as mathematical expectation, this function is one of the hallmark tools that guides punters in their gambling ventures.
Use Positive Expected Value Betting Strategy at These Operators
Bookie
Bonus
Min. Deposit
Details
Action
Grosvenor

Rating 6/6

2x Odds
on first bet
£10

Extensive sports catalogue
Generous offers for new and existing players
Supports live betting

Bet

Now

Grosvenor

Review
William Hill

Rating 6/6

Bet £10 get £30
in Free Bets
£10

Wide range of sports
Big selection of markets
MGA & UKGC licensed

Bet

Now

888Sport

Rating 5/6

Bet £10 get £30
in Free Bets
£10

MGA & UKGC licensed
Available Android & iOS apps
Wide range of payments

Bet

Now

Betfair

Rating 5/6

Bet £10 get £30
in Free Bets
£10

MGA & UKGC licensed
Cash out option
Bet Exchange and Bet Builder available

Bet

Now

Mr Green

Rating 5/6

Bet £10 get £30
in Free Acca Bet
£10

Live streaming available
UKGC licensed
Android & iOS apps available

Bet

Now

Unibet

Rating 5/6

40£ money back
+ 10£ casino bonus
£10

Live streaming
Android & iOS apps
Virtual sports betting available

Bet

Now

bet365

Rating 5/6

Up to £30
in Bet Credits
£5

Live streaming
Cash out option
Wide range of sports

Bet

Now

#AD, Registration required. Min deposit requirement. Free Bets are paid as Bet Credits and are available for use upon settlement of qualifying bets. Min odds, bet and payment method exclusions apply. Returns exclude Bet Credits stake. Time limits and T&Cs apply.
With this review, we aim at explaining all there is about expected value that will put you in the driver's seat of your bankroll. You guessed it, you'll have to brush up a little on your mathematics skills, but don't worry we've got that sorted. While algebra fails to plainly illustrate a point, we never do because we speak from passion and years of betting experience. We'll start with something that will help you get to grips with the concept and gradually increase the complexity of the matter. Let's first explain the term and what it stands for.
What Does Expected Value Mean to Bettors?
Seen through the lens of a statistician, expected value can be extrapolated to various aspects of our daily life, but for reasons of clarity, we are going to touch on solely its pertinence to gambling. In a few words, EV is what shows you how much you can expect to win on average if you're to bet e fixed amount each time on the same odds. Even if we weigh the pros and cons of it, we still deem it the most important assessment you can do prior to placing a bet.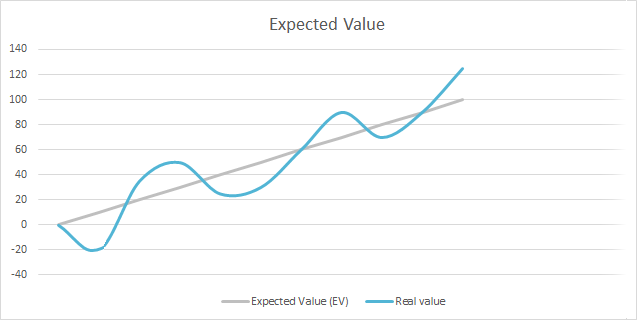 In the following lines, we'll help you get a more detailed picture of the system and its use. We promise you, there isn't much to get your wires crossed with and knowing how to use the formula can only increase the quality of your wagers. First, you need to let go of the idea that a magical formula for success exists. Blindly following a number-spewing formula will lead to an imminent debacle. Sift the results through your own perspective and personal experience, a gut feeling if you will. We're done with the prefatory remarks, let's get started with the real deal.
Finding the Expected Value for a Single Bet
Put into the context of sports betting, EV carries a lot of weight. As opposed to the overly complicated systems that oftentimes ring hollow, solving the expected value equation before a bet is an indispensable part of gambling. It's the more practical and rational approach and the one we recommend. Put into words, here's how to calculate the expected value yourself:
EV = (Probability of winning) x (Amount Won Each Time) – (Probability of Failing) x (Amount Lost Each Time)
Beyond the leathery exterior, the equation expresses a common truth that most punters come to realize at some point of their career. Namely, that we shouldn't overlook the odds for each side and solely focus on the outcome we think will come to pass, as they both influence the amount of our winnings in one way or another.
How to Put the Expected Value Formula to Use (Example)
We'll look into the following example: Newcastle is the underdog with odds of 4.2 for a win against Arsenal's 1,87 and 3.75 for a draw. If we're feeling adventurous and want to back Newcastle with a 10 pound bet our potential winnings would be 10 x 4.2 – 10 = 32 pounds. The implied chances of this happening are 1/ 4.2 = 0.238 or roughly 23-24%, which seems like a good call. The other 77% chance represent the probability of the other two possible scenarios coming to pass.
1.87 = 0.51, 51% probability of Arsenal win
4.2 = 0.23, 23% probability of Newcastle win
3.75 = 0.26, 26% probability of the match resulting in a draw
Sticking to the EV equation we mentioned earlier, we have:
EV = 0.23 x 32 – 0.77 x 10 = 7.36 – 7.7 = -0.34 pounds average loss if we are to bet 10 pounds an infinite amount of times. Don't allow the negative number to take the wind out of your sails, let it be a simple guideline as to what's statistically suggested. Even the best sportsbooks rely heavily on statistics but their odds-scraping methods are far from perfect and what's more important – they can't predict the future.
Easy to navigate mobile app
In-Play Betting
Licensed by KGC
Live Streaming
Accepting US players
$250 Welcome Bonus
The Truth About Expected Value Betting
The example we laid out compelled us to shed light on the concept of expected value betting. In particular – how to use this technique to our advantage. Firstly, get rid of the idea that a negative value sentences you to an imminent loss, you are not surely going to lose money if you take Newcastle's side. The minus simply means that it's highly likely that Newcastle will not win, but we all know that in sports the course of action is not strictly dictated by numbers, and this is where the many won and failed bets under the belt of a seasoned punter come into play. Now we can agree that next level punting is not simply depending on a system, there are many factors to be taken into account that our extensive betting guide tackles individually.
Can Expected Value Gambling Increase Your Chances of Winning?
We can agree that in sports the question mark hanging over concludes with three factors: current form, motivation, and strategy. But even if we knew for sure how those three components would combine, we still can only speculate how it all will play out in practice. So, yes with our limited capability of assessing a situation and theorizing about its outcome, EV betting is a toehold to grab on, especially for punters who are not that familiar with the sport they bet on.
When sports betting is concerned, no alleged money-churning method can stack up against carefully gathered intel and critically analyzing on past performance. If anything, calculating EV can do something for a rookie gambler and that is to point them in the right direction. However, the technique, won't magically increase one's chances of winning if they can't read the odds correctly and don't understand how to make a value bet.
To Sum Up
We hope to have illustrated with this guide the utility of expected value in gambling. There's no denying the worth of statistical assessment of a bet, but we saw that we can't hope to ferret out a clear-cut answer as to which is the best move to make by solving an equation. If you can't make heads nor tails of expected value betting, we recommend you stick to the basics, it won't hurt you.
Even betting with the gut can be a good decision at times. However, if you're serious about betting on sports, tapping into the full capacity of expected value wagering coupled with the other betting systems we discuss here, will help you develop an in-depth knowledge of how the pros do it.
Sport Betting Guides
Preferred Bookmakers In Your Location