Arbitrage Betting – Can You Cover All Bases?
Exploiting cracks in the table of odds on a daily basis, no matter where you bet exemplifies the term "sensible betting". We don't want you to get the wrong end of the stick, discrepancies of the sort are very few and far between in today's technologically advanced odds-scraping methodology, but there might just be one thing that could tilt the odds in your favour, and that's arbitrage betting.
Arbitrage Friendly Bookmakers – Choose the Best One
Bookie
Bonus
Min. Deposit
Details
Action
Grosvenor

Rating 6/6

2x Odds
on first bet
£10

Extensive sports catalogue
Generous offers for new and existing players
Supports live betting

Bet

Now

Grosvenor

Review
William Hill

Rating 6/6

Bet £10 get £30
in Free Bets
£10

Wide range of sports
Big selection of markets
MGA & UKGC licensed

Bet

Now

888Sport

Rating 5/6

Bet £10 get £30
in Free Bets
£10

MGA & UKGC licensed
Available Android & iOS apps
Wide range of payments

Bet

Now

Betfair

Rating 5/6

Bet £10 get £30
in Free Bets
£10

MGA & UKGC licensed
Cash out option
Bet Exchange and Bet Builder available

Bet

Now

Mr Green

Rating 5/6

Bet £10 get £30
in Free Acca Bet
£10

Live streaming available
UKGC licensed
Android & iOS apps available

Bet

Now

Unibet

Rating 5/6

40£ money back
+ 10£ casino bonus
£10

Live streaming
Android & iOS apps
Virtual sports betting available

Bet

Now

bet365

Rating 5/6

Up to £30
in Bet Credits
£5

Live streaming
Cash out option
Wide range of sports

Bet

Now

#AD, Registration required. Min deposit requirement. Free Bets are paid as Bet Credits and are available for use upon settlement of qualifying bets. Min odds, bet and payment method exclusions apply. Returns exclude Bet Credits stake. Time limits and T&Cs apply.
The common psychology goes like this: why fork out money when you can beat the bookies in their own game and walk out a winner every time. Nothing is unfair when we're talking money and arbing is all about that killer instinct that brings you one step closer to the top.
Our review is geared towards the punters who love to take their sweet time measuring out the perfect bet and deliberately weighing every possible deviation of the obvious prediction. We'll accentuate on how to adopt arbitrage betting and use it in a fair way that won't upset the bookies. This is of utmost importance because a cocky attitude won't get you anywhere but into trouble.
Win Every Time with Arbing – Separating Fact from Fiction
Hold your horses, we've always preached that such thing as a certain win doesn't exist. At first, you might struggle to wrap your head around the juxtaposition of these two statements being mentioned at the same breath, but all we become clear in due course. Here we have a multi-layered problem on our hand because at some betting sites the practicing arbitrage betting is forbidden.

Indeed, some bookies are real sticklers for protocol and wouldn't hesitate to freeze an account for arbing. Generally, it's not a good idea to play the smart guy in a casino or sportsbook because the house runs on the advantage it has established by giving you particular odds. Arbitrage betting is looking to eliminate that edge the house has over players and, as you may have guessed, the gambling sites are not jumping for joy because of that.
So, this will be the first and last warning, if your operator doesn't allow arbing, don't push your luck, abide by the rules or sign with a more open-minded bookie that will let you employ a routine that involves intently searching for contravening odds.
How Often Can I Find Arbs?
It will be safe to say that windows of opportunity open on up daily due to the dynamic nature of the betting markets. Even the practiced bookies fail to monitor all venues at the heights of peer pressure and make mistakes. That's because the big firms pit their wits against each other in order to offer competitive odds and attract more customers.
In this mad dash of bidding and price undercutting, it's the shrewd punters that benefit the most. Keep your eyes peeled for the tells we're about to mention, and you will know if a bet is available for arbing. Such opportunities can occur at any bookie at any given time, so diversifying your portfolio with different betting sites could be crucial.
How to Arbitrage Bet – Where to Start
Arbing is based on the premise that even in the best sportsbooks conflicting odds slip by. The quickest way to find if an operator got it wrong is to tally up the odds and divide them by the number of outcomes, normally, the average shouldn't be more than that number. Otherwise, if you bet all the odds you're guaranteed to net a certain win.
By and large, the profit margins involved in this endeavor aren't the biggest and that makes arb bets hard to pull off if a punter isn't prepared to bet large sums. Many hold the belief that arbing isn't as effective as it was before the internet got riddled with odds comparing sites. In addition to that, the majority of sportsbooks strongly denounce the practice and have their own arbing consultants that detect loopholes in the sports markets.
Top Recommended Bonus Programs
1
In-play Betting

Mobile Betting

MasterCard

Visa

Skrill

Neteller
2
Odds x2 on Your First Bet

Bet & Watch UK Racing

MasterCard

Visa

Neteller

Skrill

Paysafecard

Paypal
3
Wide range of sports

Big selection of markets

MasterCard

Visa

AmericanExpress

Bitcoin
Sports Arbitrage with One Bookie
On certain occasions, the trained eye can spot unusually pumped odds, which implies that the bookie either overlooked the event or is trapping. In the ideal situation, the prices we get are the result of a slapdash odds scraping. You know you struck gold when a binary outcome event, such as a tennis match, have the abovementioned condition satisfied.
Matches of binary end result would many a time buoy up the odds-aware punters given that all prerequisites for micro inconsistencies are in place. The general confusion stems from the fact that any given match, however one-sided it's deemed to be before the start can turn into a stalemate after the game begins. This pushes the sportsbooks to pony up more than usual for the favourite win.
Translated into European odds, that any wise operator would rarely drop below 1.10 even if It's clear as daylight who's going to win the head's up. That means that on the other side we need a 3.9 to break even, and above – to green up.
Is It Safe to Dabble with Arbitrage Betting?
As professed pillars of sportsmanship, the mainstream bookies have little choice but to disapprove any type of endeavor that guarantees a sure winner. One thing they'd do to even it out is to cancel the second arb bet, that is supposed to hedge your winnings.
Cutting on someone's profit sounds bad enough, but what really raises eyebrows is that oftentimes gambling operators would seek to limit judicious bettors' accounts or completely cut them off. First, we recommend you test the waters with an economical dry run and see whether you're stepping on someone's toes and then decide whether to commit more money to the system.
Matched Betting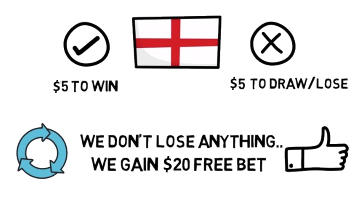 Matched Betting is essentially the same thing as arbing with the only difference that we use free bets, that's all there is about this technique. Obviously, in order for this to work, you must first get yourself a good signup bonus.
Just as this is important so too correctly combining the odds is of crucial importance. Provided that we have a tangible free bet to work with, we need to venture out looking for odds that are a good match. Just like we did before, we are trying to find multipliers that work well together only this time we are staking one side with the bonus money.
Please keep in mind that normally after the free bet is used up, the bookie will withhold it regardless of winning or losing, all you get to keep is the profit. This is something to factor in when working out the required odds for your strategy.
Arbitrage Betting in Tournaments
We don't mean to say that particular betting sites bear down on arbers, but it's a good practice to make your act look clean just in case. Our favourtie method to adopt the arbing philosophy is by wagering on the outright winner. This technique showcases skill and betting intelligence, that's why we suggest you begin with something easier if you're just starting.
Let's consider an example where we take odds of 1.5 with a bet of 10 dollars for Rafael Nadal championship win, which is not impossible if we bet in the very beginning of the tournament. Say, he reached the final and will be meeting Kei Nishikori whose price is now 4.00.
This isn't surprising, not even the slightest, because Nishikori, though being a great tennis player, stands a slim chance against a hardened veteran like Nadal. But we already have Nadal covered, we did so before the tournament has even started. Remember we made an outright bet? Given that we already have 10 dollars invested, all that's left to do is to ensure at least 10-dollar net profit from a Nishikori win. Easy as pie, placing at least 4 dollars on Nishikori will ensure us against losing money.
How many times we've seen strong teams drop out in the mad whirl of the UEFA's Champions League's group stage? The intricate turnaround of any tournament can completely flip the odds-upside down and turn the tables in favour of the sports pundits. Pretty much any sporting event, small or big, irrespective of type and season, can get you into gear for remunerative arbitrage betting.
Arbing with More than One Betting Site
And if you'd allow us to pull that thread a little further we want to show you how to juggle with two different operators at the same time. It's less stressing because this is actually allowed and it's down to sensible punting rather than exploiting a single mistake. This is a wonderful way to clean up your act without shaking things too much and still get a nice payout for your effort.
Here, we'll be looking to wager on both sides of a match on two separate sportsbooks using the same principle to turn a profit in every case. This involves two betting accounts and careful research. You've got to understand that comparing odds between the bookies and looking for that sweet opportunity is a time-involving process. So here patience will be your best friend, keep looking and eventually, you'll find odds that satisfy the criteria.
Easy to navigate mobile app
In-Play Betting
Licensed by UKGC
Live Streaming
Cash Out
$20 Risk Free Bet
Betting Exchange Arbing
To tip you off on the most common arbitrage betting practice, we'll have to share a word or two about betting exchanges. The sites of this type let you step into the shoes of a bookmaker and lay odds against a particular outcome. This option contributes even more to the diversity of odds in online betting.
Now, the clever punters have noticed that if a lay bet in an exchange is shorter than the back odds of a bookie, then one can take both offers and end up with a positive payout irrespective of the tiebreak of the event. We suggest you take a look at the largest betting exchange on the web for a complete table of offers and lucrative deals.
Exchange arbing is only possible if we account for the exchange's commission and the bookie's rake (if there is one). Taxes like this eat away at the return and can compromise our profit if we play too small. Remember not to bet beyond means before you do the math first.
Arbitrage Betting Software – Risks to Be on the Lookout For
If you're seriously considering to get a good mileage out of arbing, then an appropriate software will definitely give you a leg up. This is a simple application that doesn't require you to be a dab hand at sports betting since it does the hard work for you. There are paid programs as well as free alternatives, with the latter being rather sluggish.
The paid software is super-fast and gives you an extra edge over the competition, which is really important in arbing because endeavoring to profit out of this method is really a race against time, provided that an operator can close the markets at any time.
When choosing any free or paid arbitrage betting software, be mindful of the fact that some of the sites angle at obtaining your data. Before downloading or installing anything, feel about the site and see if it has a scammy look. Make sure everything is legit or you might be exposing your sensitive information like credentials and personal data to hackers.
What's Next?
People often point out there's no accounting for taste but we're all the same when money is concerned. In regard to that, so far we've seen there's no paved way to easy street, but a worthwhile effort is arbitrage betting. It's a wonderful way of getting the payouts rolling in, with all of its variations. If you feel out of your depth at first, it doesn't take too long to master, and the stable and consistent gains will be worth every minute of your time.
In keeping with the unfavourable stance some bookies take on sensible betting, we recommend you check what's the policy of your operator before start using arbitrage betting with them. Though some sportsbooks have been brought to disrepute on account of stopping arbers in their track. The big names can get away with freezing accounts pretty easily, especially for terms and conditions violation which sometimes is the case with arbing.
Sport Betting Guides
Preferred Bookmakers In Your Location