Kelly Criterion Betting – Measuring Out Your Bets Can Be a Recipe for Success
Thin on the ground are the punters that need not employ a betting system in order to turn a profit in the long run, but there are many systems that raise more question marks than give answers in the mind of the unpracticed gambler. We too have been, ruminating on how the best betting systems work and here we'll acquaint you with probability theory-based Kelly Criterion.
This model is applicable in various cases where investment is involved, be it gambling or on the stock exchange. Utilizing any substandard system could put your money at unnecessary risk, that's why we recommend you implement the widely renowned and tested Kelly criterion.
There's something even the best system can't change and that's the diligent approach and awareness that accumulates only through years of experience. If you have that and are looking for something to give you an extra edge in the unforgiving reality of risk investment and gambling, then read on. But keep in mind that our advice and pointers won't take away the need of researching and treading cautiously.
Kelly Criterion Investing – How Does it Work and What's in It for Me?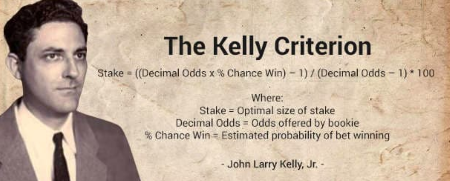 The system in question is not only good for gambling but for money management in general. We can consider our gambling strives an investment, in fact, we should look at it from that perspective in order to make a living out of sports betting. But then we are faced with the challenge to figure out where to invest and how much. Only with a precise plan can we hope to reap long-term benefits.
Luckily, the Kelly Criterion system comes to the rescue with the promise for a prudent investment size allocation based on mathematics-driven logic. People in the know live and die by the Kelly formula when it comes to making financial gains. It bridges the little gap between sports betting and venture capitalism with the means of mathematically-padded arguments.
It's widely suggested that the Kelly bet fares best over a prolonged period of time. What John Kelly's invention does is to help you work out what's the optimal portion of capital to allot on a promising bet. Let's look at it from an investor's point of view. Every time we invest money into something there's a chance we are not getting it back, so what makes the Kelly Criterion investing plan so sensible?
Kelly Formula – Understand the Importance of Sizing Your Bets Properly
We know this is probably going to scare the living daylight out of you but let's lay out the theoretical framework first and then try to make sense of it. Let's take for instance the simplest case – a binary wager with two outcomes, in one of which we lose the bet, and the other one resulting in a payout equal to the payoff odds multiplied by the staked amount. Behold Kelly's equation in all its greatness.

f * – the recommended fraction of our bankroll we shout wager
b – our net profit per 1 unit of currency bet
p – the estimated chances of winning, converted to decimal and q is 1-p
A quick example would be the following scenario which's the dream situation for many. Let's say we bet on evens, that means b = 1. That is we double our stake if we win. So far, so good, but then comes the difficult part. In our mind our selection is 3/2 favourite to win, 60/40 -> p = 0.6 and q = 0.4. It's hard to imagine that a bookie will lay evens in this situation, but it's not impossible. When we do the math f = (1×0.6 – 0.4)/1 = 0.2 or the desired size bet should be 20% of our total capital.
If we don't have a toehold to grab I.e. in our opinion the bookie has appraised the odds of each outcome correctly and b = q/p, then it's wiser to pass on the opportunity. When b < q/ p the negative result of the calculation indicates that we have to back the other side.
Kelly Criterion Calculators
We appreciate the fact that not everyone is passionate about mathematics and even a condensed formula like the one above can seem troublesome under certain circumstances. Don't lose heart, there are many calculators integrated for everyday use for peoples of all trades. So, if you feel a bit out of your depth with all the variables and the way they are structured you can get the job done with one of those web calculators.
Recommended Betting Sites to Try the Kelly Criterion
Bookie
Bonus
Min. Deposit
Details
Action
Grosvenor

Rating 5/6

Odds x2 on
Your First Bet
$10

Bet & Watch UK and Irish Racing
More than 35 Markets Available
Founded: 1970

Bet

Now

Grosvenor

Review
You still need a healthy degree of understanding as to what's what and how to adequately estimate the chances of winning – the software will take care of the rest. Be sure to carefully input the variables manually and doublecheck them before hitting the magic "calculate" button. Also, remember to always judge on the merits of an asset or a bet regardless of what Kelly says.
Kelly Criterion Portfolio Management
Translated in the language of sports betting the word "portfolio" will mean markets or betting lines we want to include in our routine. Enriching our wagering scope with new venues can be a good thing but also doubly worse if done incorrectly. Here again, the good results pivot on establishing a balanced investment plan that dictates bet size and compliments decision-making.
It's highly unlikely to get to this point at times of global crisis, but let's assume you've set aside a square hundred thousand dollars and plan on early retirement. This capital will be the backbone of the financial enterprise you're about to take on. If you've chosen to multiply your wealth by betting, but debating between two of your favourite markets, what you need to do next is calculate your edge and odds.
For this, we'll have to lean on statistics and dig deep into our betting history. At this stage we are looking for the registered wins in the bookie we're betting with. Once you've extracted a list calculate the win ratio as per markets i.e. football and tennis bets success rate. Then look at them jointly to evaluate what percent of the time you're winning on which sport, this will be the odds part. For edge, we'll use the earnings yield (%) difference. If you executed all steps correctly the aforementioned formula should be applicable here too.
In Conclusion
It takes an immense strength of character to abide by predetermined rules, but the consistent profit and more importantly financial security are irreplaceable in the career of bettors and investors alike. You might not turn millionaire years from now, but a definite takeaway from our analysis is how helpful a systematic approach can actually be everywhere where statistical information can easily be extracted.
Be it asset allocation or devising a betting strategy, Kelly's system has a lot to tell us about where and how to split our money. Doing the math yourself doesn't pose much of a challenge, albeit there are faster and automated means to help you perform that. Whichever way you opt to go, don't forget to throw in a pinch of critical thinking in every seemingly infallible plan you come up with.
Sport Betting Guides
Preferred Bookmakers In Your Location