Spread Betting – Could This Be Your Best Bet?
We'll put to bed the myth that sports betting is exclusively related to fixed-odds betting. Apart from that deep-seeded wagering market, there are a whole plethora of markets that provide the same, if not better, return rate along with some really innovative dynamics. A prime example would be spread betting in all of its variations we're going to hash out in this review.
Not only the UK has seen a soaring interest in spread betting in the past few years, but other countries, most notably the US, too mark a significant growth in the popularity of that specific market. More and more punters rediscover the comfort of betting the spread and we're going to show you why. We'll hold our end up and give you an in-depth review of all peculiarities surrounding spread betting and an overdose of honest tips to prop you up.
Spread Betting Explained
Seen through the lens of an unbiased sports fan, the more evenly-matched the opposing teams are the better but we all know this isn't always possible. Not only the game but also the bookies lose when the Sunday match features an overwhelming favourite. So, what do the bookies do to light up the spark in a match devoid of any zest whatsoever? They usually resort to some sort of a handicap, most often than not including a strong spread betting section.

What spread betting does is shifting the emphasis on accuracy instead of paying for guessing a fixed outcome. Do you remember one of Monty Hall's all-time favourites "price the items" game? He would ask the participants to price four items within a reasonable range, also called spread, giving them the breathing room to be a little wide of the mark. When we're speaking spread in terms of sports betting we imply there's a win multiplier determining the overall gradable payout.
To paraphrase – it matters how right or how wrong you are. That means a close loss won't cost you much but a near miss won't bring you all the potential profit either. You'll need to quickly learn how to strike a balance between bet size and expected value. Betting in this fashion helps you stay on top of your game and better control your financial outlay.
Sports Spread Betting
Aiming at a profitable gambling strategy from the angle of spread betting makes it a whole new ball game. This has to do with the diversity of bet types that we see when betting the spread, something we all to often take for granted. We, however, won't give it the short shrift because we know how remunerative it could prove to be for punters in the know.
To some bettors, it's more like a side bet than anything else, but in fact, ending on the right side of the spread could guarantee hefty winnings if everything pans out as expected. Imagine it this way – the further the result proves your point, the more you're going to win. That means, you're betting on a step and how many times it can be applied between the high or low limit and the actual result.The main goal in this setup is to, at least in theory, present connoisseurs with an equal chance of success backing either side. That means there should be an even amount of wagers on each side of the spread.
Where to Place Spread Wagers?
The stomping ground of the spread betting – biased folks is the big leagues where every team step on the gas hard and don't let go until the final whistle. Not only that, but it's far more unlikely a money-churning club like Manchester United to sell their game, however, we'll give you more insight on match-fixing later-on. So, the high-profile matches make for an ideal shooting range for spread betting practitioners, who want the extra insurance that their team is not a sellout.
Let's see what exactly happens when the team needs to win by a certain margin, for example, the Champions League where the aggregate result of two matches plays. The team needing more goals would endeavor to win explicitly by as many goals as possible. This opens the door for the ingenious part of bettors to have a go at the spread betting markets. As the two line-ups battle for every inch knowing that every play counts the over/under deals become especially valuable.
Top Recommended Bonus Programs
1
In-play Betting

Mobile Betting

MasterCard

Visa

Skrill

Neteller
2
Odds x2 on Your First Bet

Bet & Watch UK Racing

MasterCard

Visa

Neteller

Skrill

Paysafecard

Paypal
3
Wide range of sports

Big selection of markets

MasterCard

Visa

AmericanExpress

Bitcoin
To set the wheels in motion, you can try to implement the same tack through the course of a tennis grand slam or the tennis masters taking place at the end of the season. The truth of the matter is, participants have little choice but to play their hearts out regarding the stiff competition. Any wagers of the margin type are generally a good idea in these circumstances. The play-by-play nature of the game foretells many epic showdowns which can bump up the points played to a substantial number. This makes Points Over one of our preferred wagers to place on the spread markets.
Spread Betting Over/ Under
Generally, you have two limits – low and high, for instance, total goals at 2 – 2.2. The whole thing narrows down to whether you think the result will come short of the given minimum or exceed the high limits of the spread. When you want to gamble with the first scenario, we say that you're buying the spread. Should your prediction go way past the high limit the phrasing suggests that you're "buying" the spread.
This is just to get an idea of what's expected, you should come on one side or the other, but this is not all. How many units of difference divide the result from the limit you backed, will determine how much you win or lose. If you sold under 2 goals for $10 per point, and the game ends in a bore draw your winnings tot up to 2x 10 = $20 plus the initial $10.
Now let's compare the above setup with a tennis example. This time, the arbitrating margin will be the number of games throughout the match. A thing to notice here is to ascertain the exact method by which the total is calculated before committing. It could be that player one's games are multiplied by player two's games set by set and then summed up. In another variation, the question of the matter is the overall number of games played. Whether it be the one or the other, let's say you marked "over" or in other words "bought" the spread at 45 with $1 a point and the match concludes in just 40 games. While it's not a bad effort, your losing bet sets you 45-40 = 5x$1 = $5 behind.
Spread Betting Put into a Financial Perspective
For the purpose of developing a more complete understanding of spread betting, we'll briefly touch on its financial side. Whether you trade on a web platform or with the help of a stockbroker there's one thing that decides how the cookie crumbles and that is the price. Two prices to be exact. Sell/ bid and the buy price, sounds familiar already?
Let's say you're trading shares, the buying price is always a cut above the sale price, that's why you get yourself shares only if you're sure their value is going up. On the other hand, selling shares (sometimes called "dumping") only makes sense if you're convinced the price will plummet.
When opening a position, you have to specify how much is the wager on a per-point or per cent. Remember, bettors are not required to own any goods, they take part by speculating about the changes in the price of different stocks. For example, if you're in for $1 per cent on an asset, with every cent its price deviates from its original position you either win or lose one dollar. It could be quite the hit as prices could soar violently without so much of a hint, but on the other hand, losses mount up pretty quickly as well if you make the wrong prediction. To avoid a debacle, make a dry run with a small sum first, just to test the waters and gather some first-hand knowledge.
Does Spread Betting Lead to Match Fixing?
Every now and then the question of match-fixing lurks in to rear its ugly head in the space of betting, causing a fair amount of distrust in sports altogether. Whilst it's not perceived as a serious threat to today's punters we still deem it necessary to flag up the issue with a short smattering of dos and dont's.
It's hard to tell if match-fixing exist and even if it does, it's very subtle and hard to pick up on. Some players may have been able to capitalize on betting the spread in the past, but now this is near impossible. In America, athletes and coaches are strictly forbidden to participate in sports betting. Not to mention that any sportsman willing to take a gamble is doing so at the peril of a lifetime expulsion.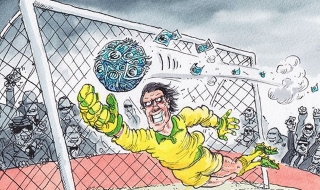 But on the other hand, there are some things we better stray away from when gambling on sports. Right away, from the top of our head slips the problem of end-season matches. Depending on the sport and league a fixture might not bear the same significance for both sides, thus cramping the motivation of one of the teams. Some football championships, like the Italian Serie A, are notorious for rigging games at the end of the season.
It's not always a good idea to take things at face value especially when money is at stake. If we take the NBA for instance, there's plenty to take into consideration if we want to nail a winning bet. Just like with spread betting the truth is squeezed somewhere in between. On one side we have the amateurs who fight for promotion in the big league and on the other side are the top dogs fighting tooth and nail for a position of advantage in the playoffs. In both cases, the points play a central role and the teams are determined to win in a compelling fashion. This could compromise the wagers of those punters who sold the spread.
Markets Entailed by Sports Spread Betting
As we already pointed out, spread betting is an intelligent way of limiting your losses and bolstering up a return. This can be achieved in a number of ways, turning to good account the numerous markets we are going to discuss here. As with prop betting, you'll get lots of leeway to maneuver according to your expertise.
Maybe you've got a pretty good handle on how a certain team performs and can predict with a great percent of certitude whether they will score one, two or three goals just by looking at the lineup. Then we'd say, test your skills on goals/ points under/over but other nevertheless promising alternatives like yellow cards, fouls, corners and other elements of a game also rake in solid profit to punters that have a keen eye for statistics.
If you're not making much progress on the "win by/lose by" markets take a long, hard look at your approach and try a different tack. Maybe something not directly related to the winning conditions, like fouls or possession. The best firms have got all avenues covered.
Don't Spread Yourself Too Thin
All too often we see the same rookie mistake, which is jumping into the wrong conclusions. As always to research further, test on a small scale and get to the real deal. If you want to reap steady profits, you might want to stop by our comprehensive guide on the ins and outs of sports betting.
As with all forms of gambling, there's always risk involved, that's why we're trying to rate the bet types and strategies we recommend. Spread betting definitely falls into the category of advanced betting techniques because things can easily go out of hand when a complete newbie tries it for the first time, although supposedly the outcome has an equal probability of ending on either side of the spread.
If you 've decided to give spread betting a whirl make sure you've come to grips with the concept and remember that winning or losing, margins can stack up pretty quickly.
Sport Betting Guides
Preferred Bookmakers In Your Location